Local Information
Who to contact: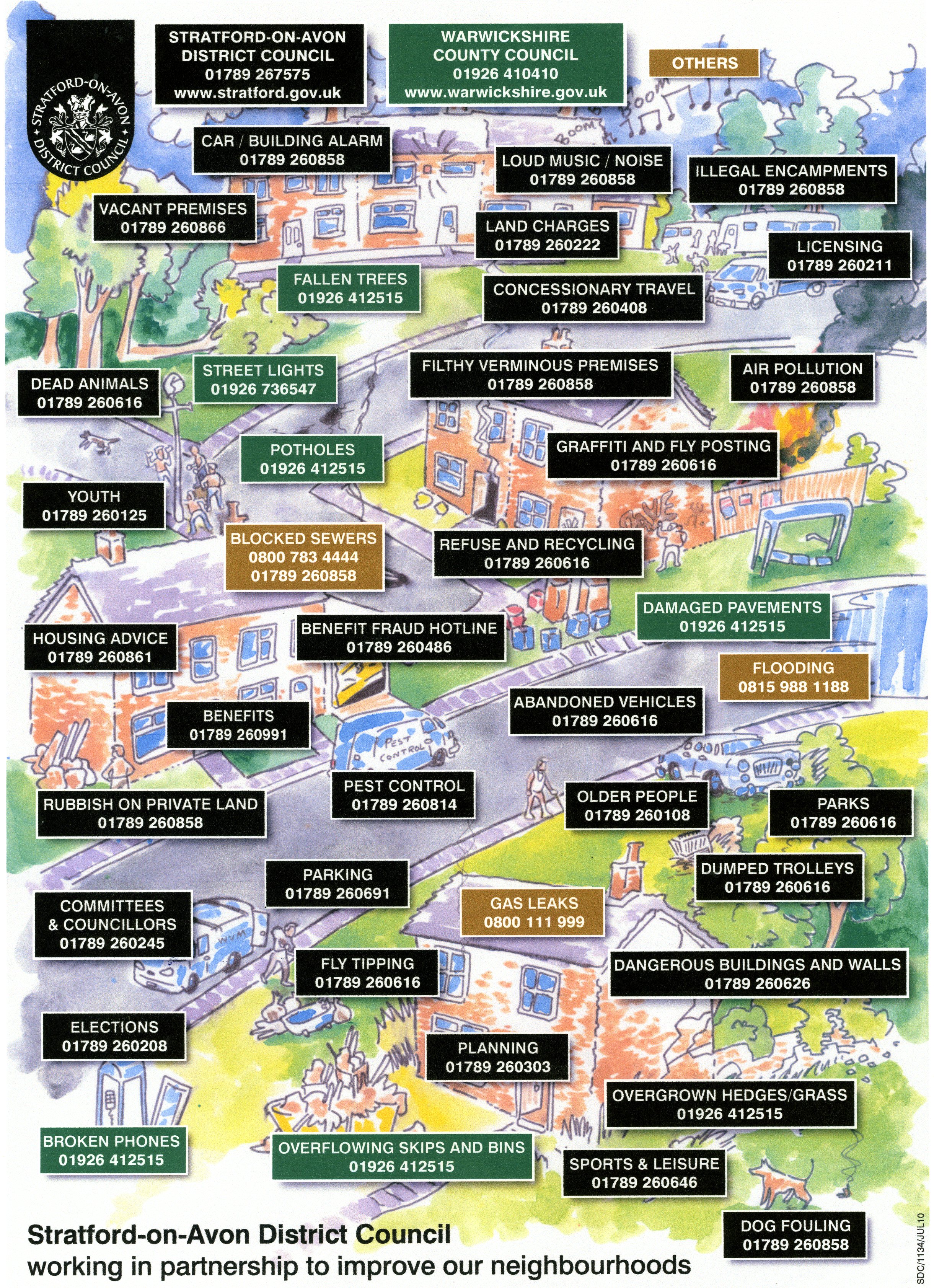 ---
For information on the roll out of superfast BROADBAND, please visit the CSW Broadband site and subscribe to their newsletter : http://www.cswbroadband.org.uk/contact-us/subscribe-to-email-newsletter
---
POLICE and SHIPSTON SAFER NEIGHBOURHOODS TEAM
Latest newsletter from the local community policing team: http://www.safer-neighbourhoods.co.uk/your-neighbourhood/stratford-district/shipston/newsletter/
To receive messages and alerts from the police, visit https://www.warwickshire.police.uk/cms Signing up is easy and will only take a few minutes. The new service and new format have lots of new features and allow you to decide what messages you receive and when.
Click here to visit the Safe in Warwickshire Partnership website for news and up-dates
Please contact Warwickshire Police on the non-emergency number 101
---
SDC MOWING CONTRACTOR
For information on when the verges within village boundaries are due to be mown, please follow the following link:
http://www.thelandscapegroup.co.uk/stratford-on-avon-district-council/maintenance-rounds
---
BAD WEATHER INFORMATION
For information on flooding, visit http://www.environment-agency.gov.uk/homeandleisure/floods/default.aspx
For information on snow and ice, see www.direct.gov.uk/snowcode.
Information on gritting and forecasts, including maps of the primary gritting routes in the county can be seen at www.warwickshire.gov.uk/gritting
---
PUBLIC TRANSPORT
For information on local bus services, including the Shipston Link rural bus service, go to http://www.warwickshire.gov.uk/buses
The Shipston Link Bus service now have a new Web-Site www.shipstonlink.co.uk which, in addition to general information, and an ongoing appeal for volunteer drivers, has comprehensive Time-Table information of each of our Services to the villages and towns in our area.
LIBRARIES
Shipston Library Opening Times
Monday 09.30 - 13.00 and 14.00 - 17.00
Tuesday 09.30 - 13.00 and 14.00 - 19.00
Wednesday closed
Thursday 09.30 - 13.00 and 14.00 - 19.00
Friday 09.30 - 13.00
Saturday 09.30 - 12.30
Sunday closed
If you know someone who enjoys reading books or listening to audio books but cannot get out to the library, they may be able to use the Library Home Delivery Service or the Mobile Library Service. This is a free service for rural households. Ring 01926 851031 for more information.
---
HISTORY of TREDINGTON and the HANCOCK FAMILY - A request from Roger Hancock:
"I am putting together a regular newsletter, to be sent out by email around every 2 or 3 months with current research including information on wills and transcripts, interesting stories, queries even blind allies and anything else that might interest Hancock researchers. The newsletter will be of interest to those with research interests in Hancock, Hancocks, Hancox and other derivatives of the name originating in and around around the villages of Tredington, Brailes, Butler Marston Combroke, Ettington, Kineton, Oxhill, Pillerton Hersey, Pillerton Priors, Wellesboune including Walton in South Warwickshire and other areas such as Birmingham, Stratford upon Avon, and villages over the border into Oxfordshire and Worcestershire.

"Recent Hancock research by myself and others has included:-
1. Looking at the 16th and 17th century wills for Hancocks at Pillerton, Brailles and Tredington.
2. Isabella Hancox of Tredington and the Hancocks at Pillerton and her connection to the Hathaway family. She married Bartholomew brother of Ann Hathaway Shakespeare's wife.
3. The early origins of the Hancocks of Oxhill.
4. Early maps of the area.
5. The Hancocks of North West Oxfordshire near Oxhill & Brailes.
5. Newspaper cuttings

"Do you know of anyone interested in the history of Tredington or the researching the Hancocks from Tredington who might wish to receive a copy of this newsletter and / or contribute? If you know of anyone researching the Hancocks of South Warwickshire who wishes to contact me regarding their Hancock family tree that would also be fine."
If you are able to help or require further information, please contact Roger directly on roger@silverdigital.com.